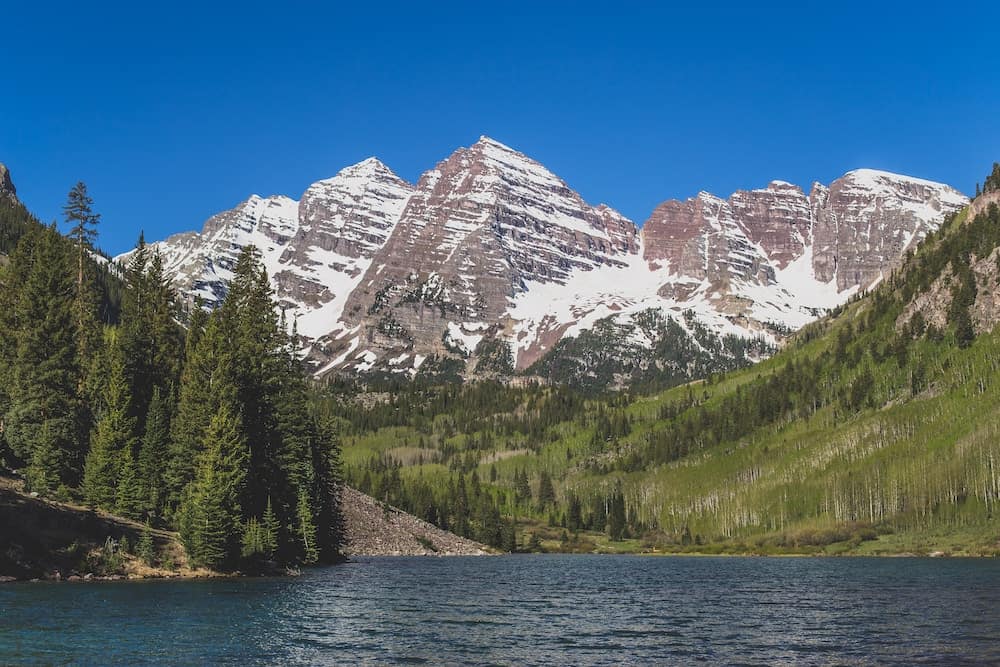 Summer is officially here in the Roaring Fork Valley! Instead of planning a vacation, consider a staycation. The Property Shop shares staycation ideas for families, couples, and everyone. We feel so fortunate to live in such an engaging community surrounded by nature. Setting aside time in the form of a staycation to enjoy our own local area is a great way to reconnect and relax.
For Families
Day 1: Head up the Crystal River Valley for the day. Start by visiting Marble, Colorado. Stop by Beaver Lake to enjoy fishing (don't forget to get a fishing permit) or watersports. Beaver Lake is great for stand up paddle boarding. If your vehicle permits (4×4 only) visit Crystal Mill in Marble. After all of the adventure, be sure to enjoy Slow Groovin in Marble for lunch or dinner. On your way home, stop by the Redstone General Store for an ice cream cone. The kids can get out the last of their energy at the Redstone park across from the General Store.
Day 2: Turn your sights on a family day in Snowmass, Colorado. The summer experience on Snowmass is a family must-do. Explore The Lost Forest, go for a hike, and enjoy lunch at Elk Camp. After lunch, jump on the Breathtaker Alpine Coaster. Still in need of a little adventure? Swing by the Snowmass Recreation Center and enjoy the saltwater pools and waterslide.
Day 3: Explore Independence Pass today. The Lost Man trail near the top of Independence Pass is a scenic trail that's perfect for all ages of children. It is an 8.7-mile loop which may be more than ideal for a family hike, but you can explore it as an out and back to accommodate any distance. There are two trailheads — the trailhead that is higher in elevation near the top of the Pass is preferable for families due to the instant nature of the views. After a big hike, head to Aspen for a meal followed up by a well-deserved cookie from Paradise Bakery.
For Couples
Day 1: Start the day in Snowmass. Ride the Snowmass gondola and go for a scenic hike to the top of Elk Camp. You can ride the chairlift back down to the top of the gondola or descend on foot. Stop by the Elk Camp restaurant for lunch. Spend the afternoon relaxing at the Snowmass Recreation Center pool.
Day 2: Get your bikes ready for a day on the Rio Grande Trail which goes from Aspen to Glenwood Springs. Jump on the trail at your nearest trailhead and decide which direction to ride. Plan to stop for lunch in a town along the way — Glenwood Springs, Carbondale, Basalt, Woody Creek, or Aspen. After a day on bikes, check the local events schedule and find a fun evening event to attend. From music to theater, the Roaring Fork Valley communities have much to offer.
Day 3: Today is a day to relax. Start with breakfast at the Village Smithy in Carbondale, Rosi's Little Bavarian Restaurant and Pastry Shop in Glenwood Springs, or Wienerstube in Willits. Consider booking a spa treatment at True Nature Healing Arts or visiting the hot springs at Avalanche Ranch.
For Everybody
Day 1: Start the day in Aspen. Start with a gondola ride and enjoy all that Aspen Mountain has to offer — hiking, lunch, disc golf, and kids play areas. Spend the afternoon exploring Aspen. Check the local events calendar for information on Aspen Music Festival events and more.
Day 2: Head to Glenwood Springs for a day of adventure — book a rafting trip. Check out the trips offered by Blue Sky Adventures or Glenwood Springs Rafting. Be sure to pack sunscreen, a snack, water, sun hat, and water shoes. After rafting, enjoy a downtown Glenwood Springs, Colorado restaurant. Rest up in the afternoon and then check out the local events calendar to pick out an evening activity. If you haven't been to the Carbondale Rodeo yet, tonight is the time to go!
Day 3: Check out our Top 10 Hiking Trails in the Roaring Fork Valley post.
Pick a trail you haven't explored before. Grab a picnic lunch and hit the trail. Relax at home in the late afternoon and then head to your favorite local restaurant for dinner.
Happy Summer! We hope you can enjoy a staycation in Glenwood Springs and the surrounding Roaring Fork Valley.