Thinking about visiting Glenwood Springs and the Roaring Fork Valley, but not sure what to do on your visit? Try visiting our world renowned hiking trails for an unforgettable outdoor experience! Here are the top 10 best hikes.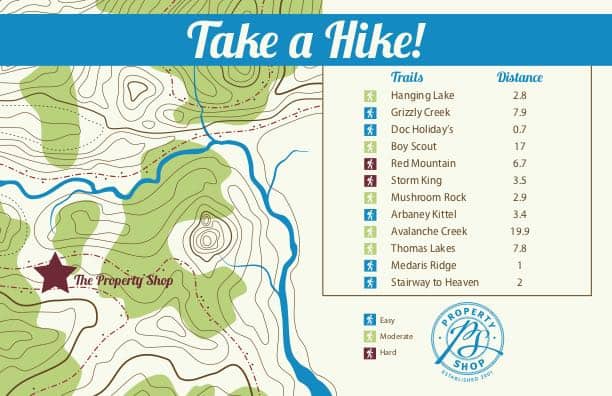 1. Doc Holliday's Grave Trailhead
Difficulty: Easy
A hike to the legendary gunslinger's grave is the perfect choice for beginners new to the area and visitors still getting used to the altitude. A beautiful, leisurely, and shady hike to Linwood Cemetery with a host of interesting landmarks and fascinating explanatory plaques along the way make this the perfect hike for the history buff interested in learning about the area!
2. Hanging Lake
Difficulty: Moderate
With crystal-clear water and a sterling reputation, Hanging Lake is a critical experience for anyone hoping to visit Glenwood Springs. With an easily accessible location right off of I-70, and a length of about one-mile, this hike is perfect for a day trip, and has a very satisfying finish: just make sure to head out early to beat the crowd, and try to stay off the log!
3. Storm King Mountain Trail
Difficulty: Hard
The Storm King Mountain trail is a memorial built by volunteers, to honor the firefighters who bravely gave their lives on July 6th, 1994. Much like the men it was designed to honor, the trail is rugged and tough: while not for the faint of heart, the observation points, valleys, sheer cliffs, and touching memorial shrine at the end of the trail offer an unforgettable experience to those ready to brave the dangers and intensity. Be sure to pack adequate water and food for this trail!
4. Grizzly Creek Trail
Difficulty: Easy
Following along the beautiful, burbling Grizzly Creek, there are ample opportunities to stop, rest, and enjoy an outdoor picnic or even fish! The swirling waves and rapids are a beautiful companion for any hiker, and can even help you cool off in the hotter times of year, but be careful those currents are as strong as they are lovely!
5. Glenwood Canyon Trail
Difficulty: Medium
Running between the Colorado River and I-70, the Glenwood Canyon trail is an excellent choice for bikers who want a beautiful view without a major uphill hike- with lots of opportunities to hop on and off the trail, you'll have an easy, no-strings adventure with plenty of opportunities for rest and refreshment.
6. Red Mountain Trail / The Jeanne Golay Trail
Difficulty: Hard
A favorite pick for trainers and those looking for physical conditioning with their hike, be prepared for quite the workout! The Jeanne Golay Trail is named for famed local Jeanne Golay, who trained and raced on this road on her way to winning the National Road Cycling Championships in '92, '94, and '95, and you'll quickly see how she maintained an edge in endurance after reaching the top! With a great view and a guaranteed, downhill-only route for bikers and hikers on the way back, Red Mountain is an excellent pick for those looking for a quiet but intensive experience.
7. Mushroom Rock
Difficulty: Easy
Bisecting the Crystal and Roaring Fork Valleys, Mushroom Rock is a short (.6 mile) and fun hike approximate to neighboring Carbondale, just outside of Glenwood Springs. Great for biking, and those who are looking for a great view, but be sure to bring adequate sun protection: though this is a short hike, there isn't much foliage to go along with the views, and exposure can be a concern!
8. Boy Scout Trail
Difficulty: Moderate
Universally considered to be the best trail by bike-riding enthusiasts of the area, the Boy Scout Trail begins with a 6 mile climb, but ends with a smooth cruise through Forest Hollow with gorgeous views, wildflowers, and a year-round cool breeze. The ride downhill will deposit you right into Glenwood Springs for a well-deserved post-hike celebratory meal!
9. Atkinson Canal Trail
Difficulty: Easy
A paved, perfectly accessible 3.1 mile trail for all ages and abilities, Atkinson Canal Trail is the perfect choice for families with children- it runs along the Roaring Fork River and has a great many amenities and picnic areas if you decide you need a break. Dogs are also permitted, and the full trail is entirely wheelchair accessible!
10. Arbaney Kittel
Difficulty: Easy
A little further upvalley near Basalt is Arbaney Kittel- a dirt-only trail with midvalley charm and more isolated from the crowds that tend to come in from I-70. Quiet, dog friendly, and perfect for dogs, bikes, and even horseback riding! If you're curious about the full Roaring Fork Valley experience, Arbaney Kittel is a must!
~~
Glenwood Springs has been the choice of hiking enthusiasts for decades, and there's no sign of that changing anytime soon- visit The Property Shop today and let us help you find the perfect home base nearby!