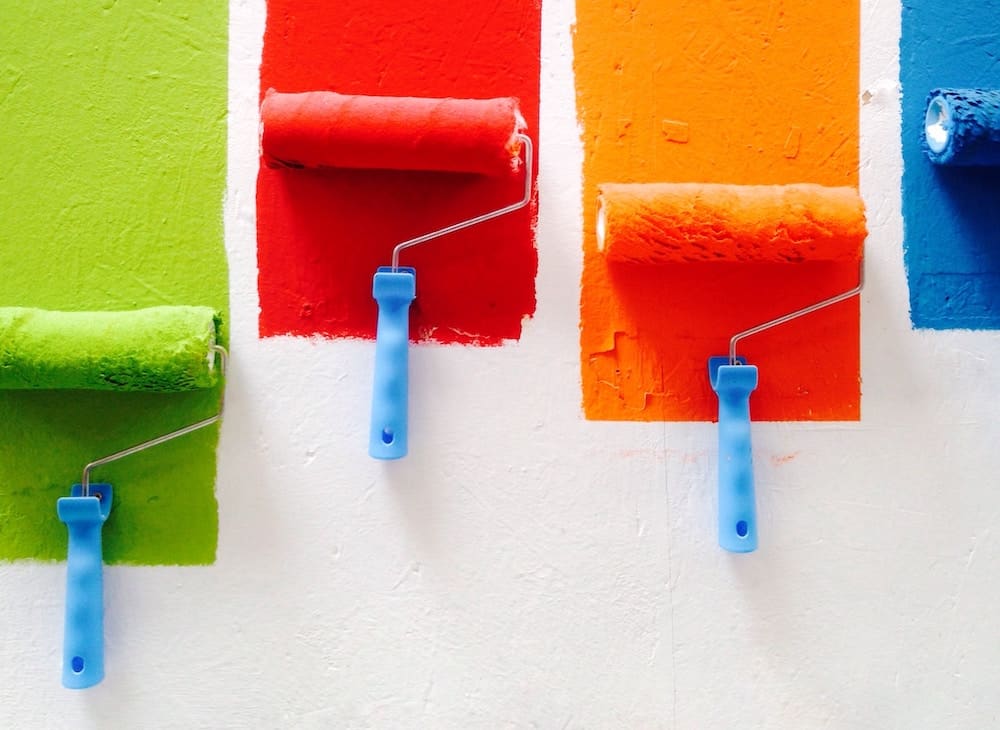 Every year, major paint manufacturers, including Pantone, Sherwin-Williams, and Behr, select a color of the year. The decision is based in part on current trends in home design as well as predictions for the future. In addition to the main color, the brands also create full-color palettes with complementary colors to make it easy for you to incorporate the color of the year in your own home. Here's a look at the colors of the year for 2019.
Pantone: Living Coral
Pantone's color of the year is arguably the most publicized of the three, so you may have already seen or heard about Living Coral. This delicious hue is a vibrant combination of pink and orange that looks like it came straight out of a tropical reef. Double down on the tropical theme by adding rich blues, greens and yellows from the Under the Sea color palette, or create a warm, soft glow with other shades of pink and orange, as in the Sympatico theme. The Shimmering Sunset palette is similar, evoking the changing sky as the sun goes down. It brings in a bit of purple, in addition to the pink and orange hues.
If you want Living Coral to really stand out, keep the other colors in your palette soft and simple, like those in the Focal Point group. Shades of gray and taupe are great for creating a neutral background so that the coral tone can truly shine. If neutral isn't really your style, go bold with the Trippy color palette. This fun color combination is bright and vibrant, and the hues included in it are sure to bring a smile to your face throughout the day.
Sherwin-Williams: Cavern Clay
For 2019, Sherwin-Williams selected Cavern Clay as its color of the year. It is a rich adobe tone that gives a nod to the beautiful desert landscapes of the American Southwest. Because it is a natural color, it creates the effect of bringing the outdoors into your home. Be sure to add plants (real or artificial) and other natural elements to enhance the outdoorsy feel.
Rather than creating full-color palettes, Sherwin-Williams offers color pairings for its color of the year. Try matching it with Origami White for a fresh, simple look that makes the color pop, or pair it with Moth Wing or Dark Clove for an understated, yet sophisticated, aesthetic. If natural colors give you 70s vibes, try adding Distance, a dusty blue, or Haven, an avocado green, to capture the mood of that era while still keeping the overall look fresh and modern.
Behr: Blueprint
The Behr brand chose Blueprint as its color of the year. As you might have already guessed from the name, this tone is reminiscent of architectural blueprints. Although it is a deep, moody shade on its own, you can brighten it up with lighter hues around it. You can also keep the look rich and sumptuous with other bold shades.
The Monochromatic color palette brings in lighter and darker shades of blue, creating a cohesive look. If you prefer to keep the look a bit lighter, try the Pastels palette. The other colors in the group are pale and delicate, making this a versatile option for just about any room in your home. The Earth Tones set brings in shades of gray and rust to balance the blue and make it pop. Finally, the Jewel Tones palette gives a rich, sophisticated appearance that is bold and powerful.
Choosing Your Colors
Any one of these color palettes can transform your home, and you can adjust and modify any of them to suit your personal style and taste. Of course, you shouldn't feel locked into a particular color palette simply because a paint brand recommended it. When it comes to home design, the final decision is always up to you. After all, you are the one who will be living in the home, so you want to ensure you are completely happy with the results.
Don't be afraid to experiment with different color combinations to find something that speaks to your preferences. Trust your instincts, and you should have no trouble incorporating one of these colors of the year in your home. Fresh paint is a great way to freshen your home before putting it on the market.
We're here to help! Contact The Property Shop and we'd be delighted to talk more real estate in Glenwood Springs and beyond.